It's 2020 and there and COVID-19, or Corona Virus or whatever you want to call it at this point has shut down the World Economy and has changed life as we know it. Places of business can't re-open unless they follow strict guidelines of: social distancing (6 – feet apart), the wearing of masks and a huge reduction in capacity per room.
The BIGGEST questions that are now being asked during 2020 are:
——————————————————————————————————–
"HOW MANY PEOPLE CAN WE FIT AT A TABLE TO SATISFY SOCIAL DISTANCING?"
&
"HOW MUCH SPACE IS ALLOWED BETWEEN TABLES AND CHAIRS?"
&
"HOW DO WE GIVE EVERYONE A GOOD SEAT?"
——————————————————————————————————–
Here are all your TABLE SOCIAL DISTANCING Answers!
——————————————————————————————————–
General Event Table Spacing (BEFORE COVID)
The minimum space needed between tables as per hospitality guidelines, without incorporating a service aisle is 52 inches, or 4-feet and 4 inches. This gives 18 inches between the chair and table, and then a minimum of 16 inches between the backs of each chair.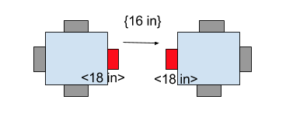 ——————————————————————————————————-
Table Spacing with a Service Aisle (BEFORE COVID & AFTER COVID)
The minimum spacing when incorporating a service aisle is the same as general event table spacing expect instead of 16 inches between the back of each chair it is increased to a minimum of 30 inches. This means a total distance of 66 inches, or 5 1/2 feet from table edge to table edge.
However, Now due to COVID and Social Distancing you must have 6-feet total between each CHAIR, not TABLE. The Service Aisle now needs to be 72 inches, or 6 feet from the back of each CHAIR! This means that the total distance between each table needs to be 108 inches, or 9 feet! This is because each person sits in a chair that is 18 inch on average from the edge of the table.
——————————————————————————————————–
We are here to help businesses operate and function under these guidelines. The Delta Table was invented in 2016 and was officially approved of its patent in 2019. Hip Hip Hurray!….. And its design was made 3 major things: to allow everyone to face the same direction towards a speaker/presentation, to increase seating capacity by 15% in the same space and give everyone finally a good seat!
However, now that we live in a different period where social distancing is ruling our daily lives, the Delta Table has a solution for you again! The dimensions of the Delta Table are 7- feet long, 6 feet wide on the wide end and 2 1/2 feet wide on the narrow end. Originally this allowed 10 people to sit comfortably giving them each nearly 2 feet of space per guest! 4 people on each long side and 2 people at the wide end, and 1 person at the head of the table (also wheelchair accessible seat). So 10-11 people COMFORTABLY!!!!!