The Delta Table is a product that was created by event professionals for event professionals. With over 20+ years of experience in setting up and tearing down events, going up and down back of the house freight elevators and setting up events and tradeshows that range from $1 to over $100,000 in budget, we at Delta Tables have done a little bit of research in this field.🤓
The BIGGEST questions that are asked when working with event venues and event planners is:
——————————————————————————————————–
"HOW MANY TABLES CAN WE FIT INTO THIS SPACE?"
&
"HOW MUCH SPACE IS ALLOWED BETWEEN TABLES AND CHAIRS?"
&
"HOW MANY PEOPLE CAN WE FIT?!"
——————————————————————————————————–
Here are all your Table Spacing Answers!
——————————————————————————————————–
General Event Table Spacing
The minimum space needed between tables as per hospitality guidelines, without incorporating a service aisle is 52". This gives 18 inches between the chair and table, and then a minimum of 16 inches between the backs of each chair.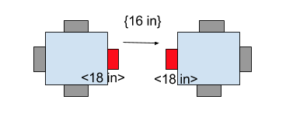 ——————————————————————————————————-
Table Spacing with a Service Aisle
The minimum spacing when incorporating a service aisle is the same as general event table spacing expect instead of 16 inches between the back of each chair it is increased to a minimum of 30 inches.
——————————————————————————————————–
Space Between Round Tables
The minimum spacing that should be allowed for banquet style seating with round tables is 60 inches. This gives the standard 18 inches between chair and table and then 2 feet (24 inches) in between the backs of chairs. (Although this very rarely happens, as most venues & event planners try to maximize space by squeezing everyone: They usually increase 8 to 10 people at 5-foot tables and 10 to 12 people at 6-foot tables. They then squeeze tables together as well doing 16 inches instead of 24 inches, leaving little room for guests and service staff when using circles)…. Can you tell we are biased against circle tables LOL!! 😎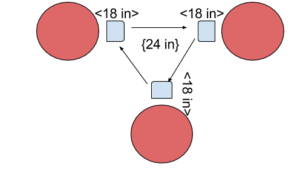 ——————————————————————————————————–
Space Between Delta Tables & How it Increases Seating Capacity
Due to the Delta Tables' unique angles when using the hospitality standard of 52 inches between tables you can fit more delta tables in the same space as round circle event tables. When the Delta Table is alternated the angles help 52 inches apart seem like only 42 inches (3 & ½ feet) because of how they fit together like a puzzle piece. As per comparison, you can fit only 7 circle banquet tables in the same space as 8 Delta Tables, and with Delta Tables you get the added bonus of every guest having a great seat!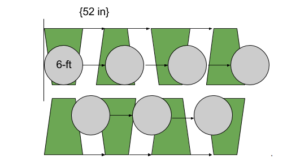 *With 10 people per 6-foot table and 10 people per Delta Table you would have 70 people with the circles compared to 80 with the Delta Table in the same space. The best part is everyone has a good seat with the Delta Table. No one has their back facing the stage!*
——————————————————————————————————–
Table Spacing
When doing unique table layouts at events, or at your restaurant it is important to have a minimum of 2 feet between the edges of each table, allowing for walking space/service aisles.

——————————————————————————————————–
Space Between The Walls
The minimum space needed between tables and the wall as per hospitality guidelines is usually a minimum of 48 inches. This gives us our usual 18 inches between the chair and the table, and then a "service aisle" spacing of 30 inches from the back of the chair to the wall.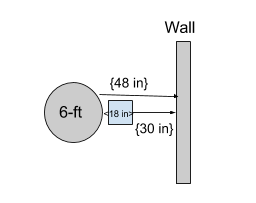 Please comment below for things in the hospitality/event industry you would like to know more about!
Best,
Delta Tables Co. Family